For all the negative news about Bitcoin (which mostly comes from Wall Street), there is plenty of positive to report about the cryptocurrency that everyone loves to hate. Bitcoin Center NYC, which opened earlier this month, is seeing unprecedented traffic at its Broad Street, Manhattan location.
Both tourists and NYC residents are keeping the Center's staff busy, as the stream of questions about Bitcoin just doesn't seem to let up, whether it's lunch time or after hours. The Center has also become a meeting place for Bitcion enthusiasts in the Tri-State area who gather for regular meetups, or "hackathons," at the New York outfit's facility.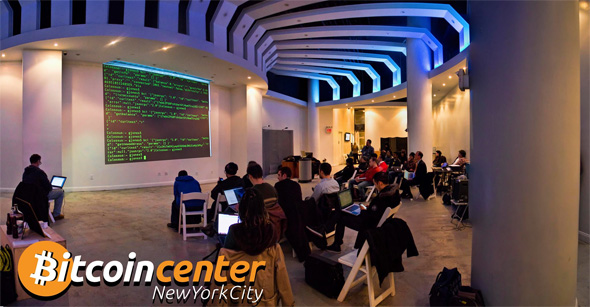 As the the price of Bitcoin continues to grow, so do the questions about just what kind of effect it might have on the future of the world economy. Indeed, libertarians herald Bitcoin as the solution to many problems with the current financial system, including inflation, inefficiency, and large governments' ability to manipulate currency. The currency's wide acceptance in the technology circles signals a likely wind of change in how money travels the globe, and perhaps a hint of what's to come of the biggest idea in finance since, well, money.